Professional Logo Package
WE ACTUALLY LISTEN
Your company is unique. Our purpose is to key into what makes your product, service or target audience special.
We listen to your ideas, taste and requests and then combine our expertise, experience and industry research to create your outstanding logo.
NICE VS. OUTSTANDING
Your business logo is the cornerstone of all of your marketing and promotional material.
We believe Key Custom Design's superior service, expertise and dedication makes all the difference. NO "Clip Art".

The Professional Logo Package starts at $455.00
Your logo is designed in full color - or a specified number of colors.
Select from 6 logo design concepts.
Unlimited design alterations - we wont stop till you're 100% delighted.
Your logo is created in scalable vector format.
We create a black & white (grayscale) version of your logo design.
We provide 8 digital formats of the final logo design:
gif, jpeg, tiff, eps, psd, ai, pdf, png.
All logo formats supplied will work for both Mac or PC.


All digital formats of final logo designs are zipped and e-mailed.
(We will provide a CD with your digital logo files for $10. Please let us know and we'll mail a CD when the project is complete.)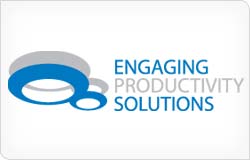 Final Logo Selection

Engaging Productivity Solutions (EPS) approached Key Custom Design after a disappointing experience with another "online logo company". EPS wished to portray a clean, professional image.
We chose a silver and blue color scheme and a modern yet conservative font to communicate expertise and reliability.
The customized infinity symbol implies continuing service.

THE EVOLUTION OF A LOGO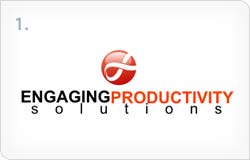 First Logo Design Concept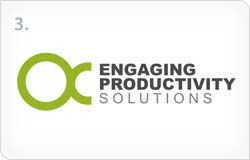 Adjusted Color and Symbol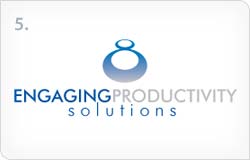 Colors Used in Final Selection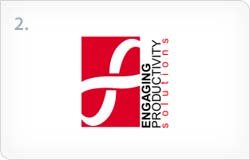 Second Logo Design Concept
Centered Design Incorporating Shadow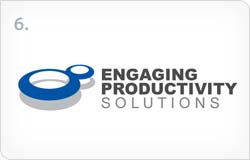 Variation of Final Logo Symbol