Deluxe Logo Package
DEVELOPING YOUR BRAND IDENTITY
If your business logo is the cornerstone of all of your marketing and promotional material; continue branding your company's identity with professionally designed business cards and stationary.
YOU'VE NEVER LOOKED SO GOOD
Our designers create personalized stationary incorporating your unique logo and color scheme. Choose from 3 custom business card design concepts and 2 letterhead and envelope design concepts.

The Deluxe Logo & Stationary Package starts at $780.00
Your logo is designed in full color - or a specified number of colors.
Select from 6 logo design concepts.
Unlimited design alterations - we wont stop till you're 100% delighted.
Your logo is created in scalable vector format.
We create a black & white (grayscale) version of your logo design.
We provide 8 digital formats of the final logo design:
gif, jpeg, tiff, eps, psd, ai, pdf, png.
All logo formats supplied will work for both Mac or PC.


Select from 3 custom business card design layouts.
Select from 2 custom letterhead and envelope layouts.
Unlimited stationary design revisions - we wont stop till you're 100% delighted.


All digital formats of final logo and stationary designs are zipped and e-mailed.
(We will provide a CD with your digital logo and stationary files for $10. Please let us know and we'll mail a CD when the project is complete.)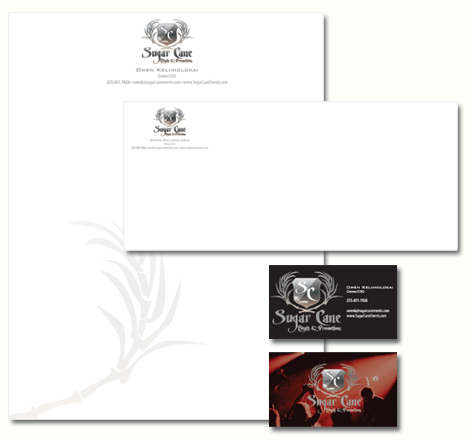 Sugar Cane Events and Promotions Stationrary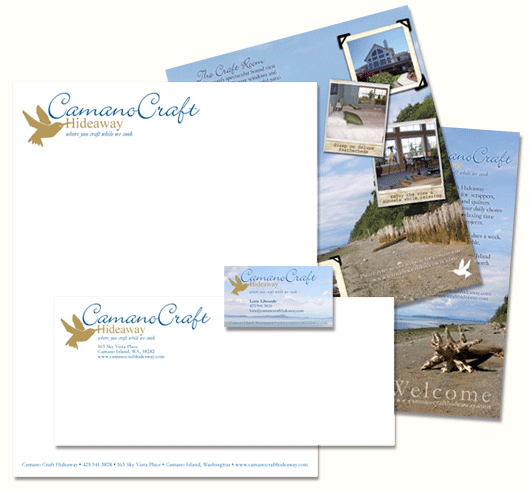 Camano Craft Hideaway Logo and Stationary